Ingredients:
Tray of 6-8 chicken thighs and drumsticks
2 red onions, quartered
1 pineapple, peeled and cut into chunks
Olive or canola oil, for coating 
Jerk spice rub:
4-6 sprigs fresh thyme
2 cloves garlic, minced
1 Tbsp (15ml) each cayenne pepper and smoked paprika
Handful parsley, chopped
Salt and milled pepper
1 tsp (5ml) each groundallspice, cinnamon, nutmeg, chilli flakes and brown sugar
Juice (60ml) and grated peel of 2 limes + extra wedges for serving
Mango sambal, flatbreadsand lime wedges, for serving
Method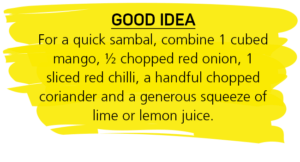 Preheat oven to 180°C.
Place chicken, onions and pineapple in a deep baking dish. Using your hands, cover with oil until well-coated.
Combine spice rub ingredients and coat chicken.
Bake for 30-40 minutes until chicken is cooked.
Serve with mango sambal, flatbreads and lime wedges.