Ingredients
1 packet (200g) streaky bacon 
1 tsp (5ml) avocado oil 
1 packet (1kg) baby potatoes 
2 ripe avocados
½ tub (125g) cultured cream (crème fraîche)
Salt and milled pepper
2 Tbsp (30ml) white wine vinegar
4 hard boiled eggs, quartered
½ red onion, finely diced
Handful each chopped coriander and parsley
Method: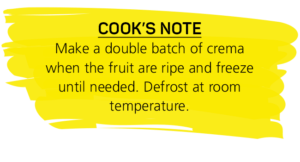 Fry streaky bacon in avocado oil until crispy.
Drain on paper towel, snip into bite-sized pieces and set aside.
Cook potatoes in boiling salted water until soft. Set aside to cool completely.
Blitz avocados in a food processor until smooth or mash using a fork.
Add cultured cream (crème fraîche) and blitz until well mixed.
Season with salt, milled pepper and white wine vinegar.
Toss cooled and halved potatoes with avo crema.
Add  hard boiled eggs, quartered, red onion and a handful each chopped coriander and parsley.