Ingredients:
3 cups (375g) rolled oats 
1½ cups (225g) mixed seeds (flax, pumpkin, sesame and sunflower seeds) 
½ tsp (3ml) ground cinnamon 
1 cup (250ml) dried fruit 
¾ cup (180ml) honey 
Method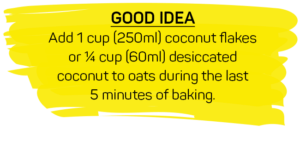 Preheat oven to 180°C and line two baking trays with baking paper. 
Combine oats, seeds, cinnamon and dried fruit. 
Heat honey until runny and toss through dry ingredients, coating evenly. 
Divide mixture between trays and spread. 
Bake for 20-30 minutes, tossing every 10 minutes for even browning. 
Remove from oven once golden and cool completely. 
Store in an airtight jar for up to 1 month.